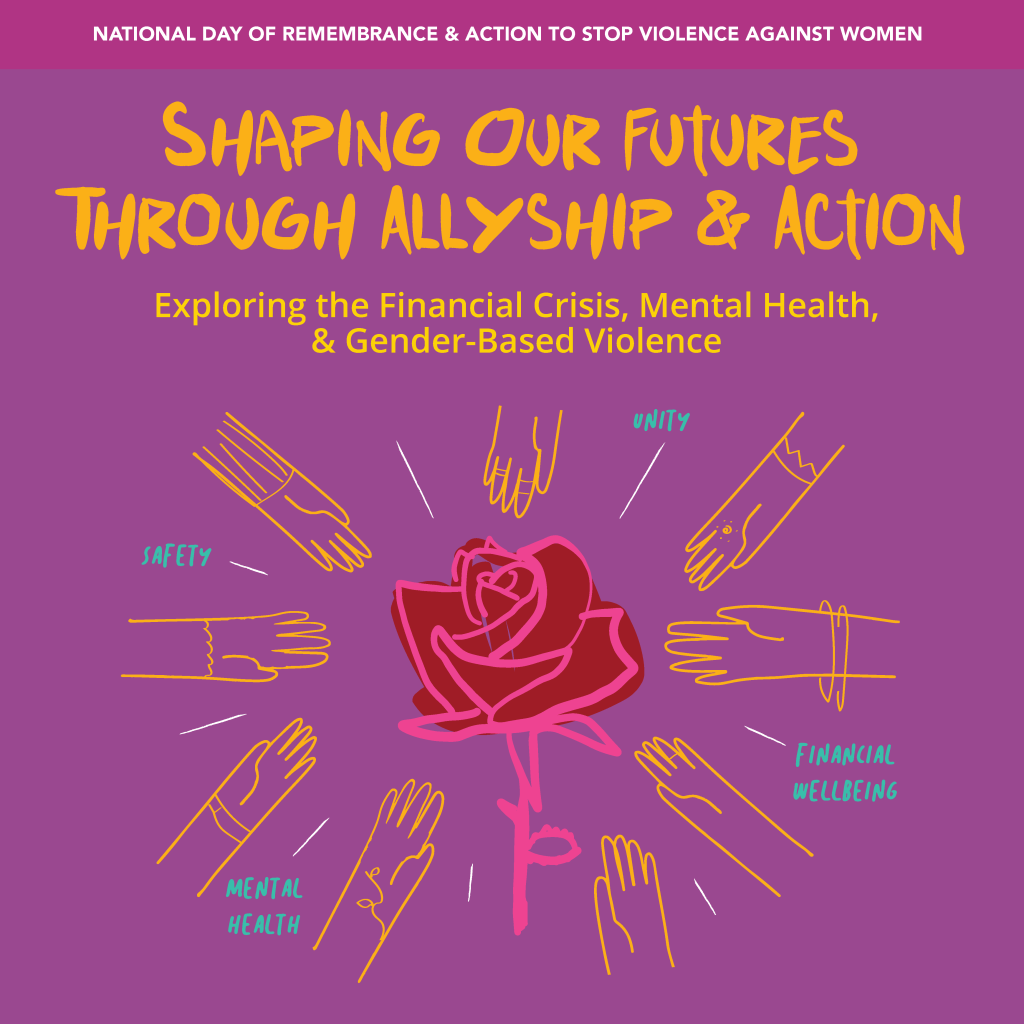 Every year on December 6th, Central Neighbourhood House and SPN members host their annual event for the National Day of Remembrance and Action on Violence Against Women in honor of the 14 women that were murdered during the École Polytechnique massacre in 1989. This year's virtual event, 'Shaping our Future Through Allyship and Action: Exploring the financial crisis, mental health, and gender-based violence', examined the impact of the financial crisis, mental health and gender-based violence that Black, Indigenous, racialized, newcomer women, trans, and non-binary communities have faced during a global pandemic.
The event included a panel of professionals and residents that shared their thoughts on the impact of the crisis, and the tools and resources that folks can use in their own life.
Host, Wendy De Souza from Metrac opened up the event by introducing the activities for the afternoon, starting with a land acknowledgement read by Armela Marano from TNO followed by an amazing traditional opening from Kevin Myron and youth artists from Counsel Fire.
The keynote speaker for the event, Sharlene Henry, shared her experience on how her tenant association was formed and what they did to stop an unfair rental increase in their building. As an advocate for affordable housing and tenant rights, Sharlene encouraged folks to work together as a community to bring change and utilize their strength in numbers.
For the second performance of the night, spoken word artist Nasim Asgari shared a powerful and passionate performance with the audience. The event continued with a panel discussion with guest speakers from various backgrounds who shared their thoughts on how BIPOC communities have been unfairly impacted by the economic crisis. The discussion was moderated by Walid Khogali Ali with panel speakers Premila Chellapermal from Women Abuse Council of Toronto, Tashin Rodoshi from Auora Freedom, and Fola Brown Founder and Director of BRI Counselling.
Premila highlighted the ways unequal power dynamics play a role in gender-based violence with those in more vulnerable social and economic positions being targets for abuse. Tashin followed-up on the discussion while brining attention to the underrepresented and under-researched communities of the Metis and two-spirit people. She spoke on the importance of creating equitable resources and supporting racialized communities. In addition, Fola shared her thoughts on what can be done to address intimate partner violence and stressed the importance of psychoeducation, especially for youth, as early as elementary and through high school. Towards the end of the panel, attendees had the opportunity to join breakout rooms to share their thoughts on the dialogue.
Anthony Gladue from Council Fire closed the night with an honor song and a moment of silence for the women of the December 6th tragedy.
Overall, the event was a success, with 100+ people attending. Folks were provided with the opportunity to share their experiences with the financial crisis and walked away with resources and tools to empower themselves.