Welcome to St. James Town
St. James Town boasts two community spaces built by the people, for the people
The Corner is a multipurpose space for community health and social services, as well as robust program offerings. The Corner is a hub that is a unique partnership between service providers and residents.
The result is a flexible model of health, social service, and recreational program delivery, one that embraces the complexity of a diverse urban community and adapts to what people truly need.
Since 2011, The Corner has been central to St. James Town's health, well-being, and overall sense of community.
Learn more about our existing programs. Many of these are run by St. James Town residents, like yourself. If you don't find what your looking for, you can create it!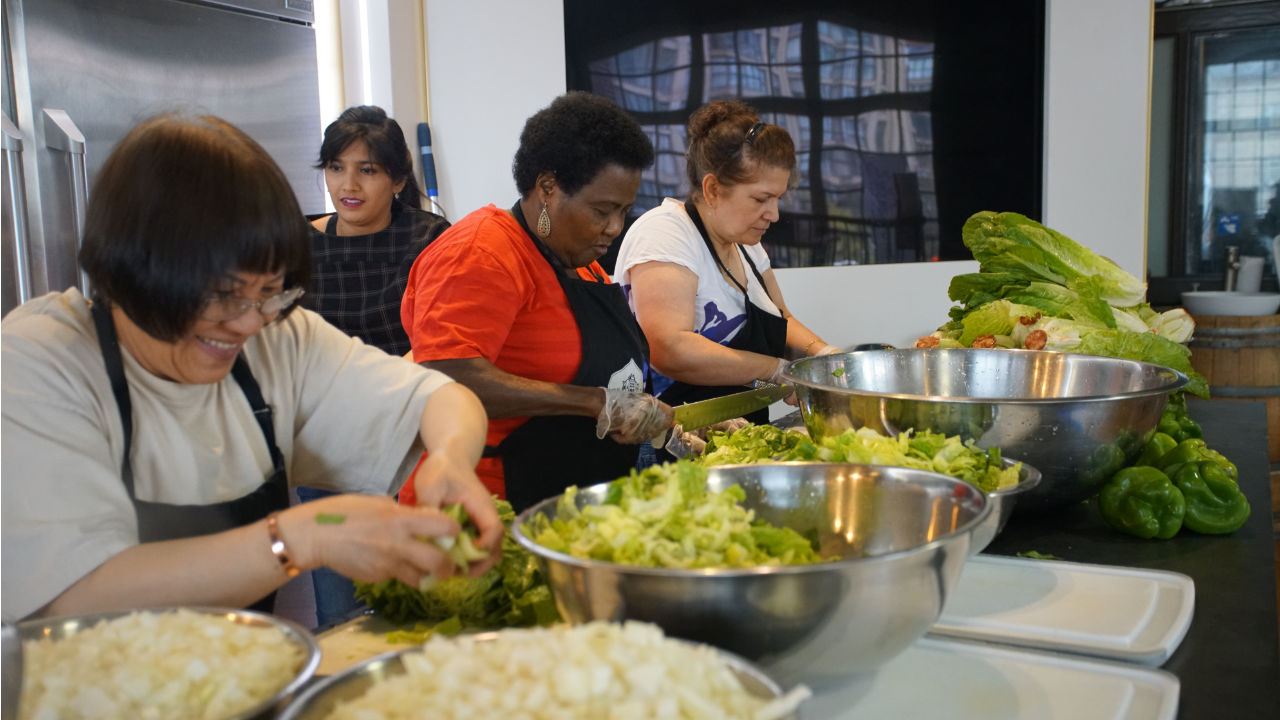 Cooking with heart, and cooking healthy.
Flavours from our Neighbours is a vibrant lip smacking catering collective in one of the most diverse neighbourhoods in Toronto. We, a group of passionate residents, have got together to make this happen. The diverse and delicious cuisines from across the globe are reflected in our menu .
The Service Provider's Network (SPN)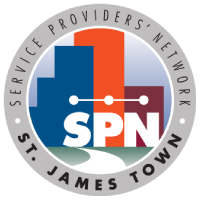 The St. James Town Service Providers' Network is a group of non-profits within Toronto who continually work to support the seven pillars of needs within the St. James Town community.
The Corner Community Centre
Register for access to resources, local initiatives and services. By registering, residents gain access to to services including basic facilities, internet, printer/copier, fax, the community kitchen and meeting rooms. It is also the hub where in-person recreational, educational and community based activities are held.
Health Access St James Town (HASJT) provides a single intake source for community members to connect and receive support from partner specialists across the city.
Including:
Primary Health, Diabetic Clinic, Counselling, Case Management, and Housing, Employment, Settlement and Senior Support.
Making St. James Town a community of choice to call home. This initiative is working to increase community engagement, building on the strengths and synergies between residents and key organizations in the community to create a safe, vibrant, thriving neighbourhood.
Puzzles, food, board games, group activities with fellow senior neighbours, and other important resources.
Building a Skilled and Thriving Community through financial tutorials, workshops, and connections to local employers. Gain access to our local job board.
Nothing is more important than family – and the next generation of St. James Town-ians deserve the best! Access homework help, daycare facilities, and more here.
Outreach & Community Engagement
Monthly newsletter, community ambassadors, blogs, podcasts, and youtube channel. We're always working hard to keep you informed on your community.
Monthly
Weekly
Daily
List
1:00 pm - 3:00 pm

2:30 pm - 4:30 pm

55 Bleecker Street, Recreation Room

10:00 am - 4:30 pm

10:00 am - 4:30 pm

1:00 pm - 2:00 pm

No event

2:00 pm - 5:00 pm

6:00 pm - 7:00 pm

6:00 pm - 7:30 pm

12:00 pm - 4:00 pm

4:30 pm - 6:00 pm

1:00 pm - 3:00 pm

2:30 pm - 4:30 pm

55 Bleecker Street, Recreation Room

10:00 am - 4:30 pm

10:00 am - 4:30 pm

1:00 pm - 2:00 pm

No event

2:00 pm - 5:00 pm

6:00 pm - 7:00 pm

6:00 pm - 7:30 pm

12:00 pm - 4:00 pm

4:30 pm - 6:00 pm

1:00 pm - 3:00 pm

2:30 pm - 4:30 pm

55 Bleecker Street, Recreation Room

10:00 am - 4:30 pm

10:00 am - 4:30 pm

1:00 pm - 2:00 pm

No event

2:00 pm - 5:00 pm

6:00 pm - 7:00 pm

6:00 pm - 7:30 pm

12:00 pm - 4:00 pm

4:30 pm - 6:00 pm

1:00 pm - 3:00 pm

2:30 pm - 4:30 pm

55 Bleecker Street, Recreation Room

10:00 am - 4:30 pm

10:00 am - 4:30 pm

1:00 pm - 2:00 pm

No event

2:00 pm - 5:00 pm

6:00 pm - 7:00 pm

6:00 pm - 7:30 pm

12:00 pm - 4:00 pm

4:30 pm - 6:00 pm

1:00 pm - 3:00 pm

2:30 pm - 4:30 pm

55 Bleecker Street, Recreation Room

10:00 am - 4:30 pm

10:00 am - 4:30 pm

1:00 pm - 2:00 pm

No event
Next month we want to hear from you! Have your favourite cultural foods and family recipes featured in the newsletter's next "Taste of St. Jamestown" by emailing Taty (twattsburke@stjamestown.org) or …