Are you looking for a fun way to learn new skills, connect with others, and unleash your creativity? Look no further than the exciting workshops offered at the Corner at 240 From cozy gatherings to hands-on activities, there's something for everyone. Join us as we dive into the world of art, crafts, technology, and more. Explore the wonderful workshops awaiting you!
Night Stitch: Experience the coziness and fellowship of our Night Stitch workshop. Every Monday at 6 pm, community members gather to learn the art of crocheting and knitting. This event offers a welcoming atmosphere filled with friendship. Discover the joy of creating stunning jackets and blankets with your own hands! Not only will you learn new skills, but you'll also have the opportunity to socialize and connect with others in a relaxing and friendly environment. Don't miss out on this chance to learn, create, and make lasting memories.
Jewelry Making: Unleash your inner artist in our popular jewelry-making class taking place every Tuesday at 5 pm. This creative workshop is suitable for all ages and brings happiness and a sense of accomplishment. Learn how to craft beautiful jewelry using paper and fabric. We're committed to sustainability, so we encourage you to repurpose recycled items and turn them into unique accessories. By joining this class, you will let your artistic expression shine and be able to contribute to a greener future.
Hand Sewing: Step into the world of stitches and fabric in our Hand Sewing class every Friday (time?). With expert guidance from our skilled instructors, you will be able to master seven different stitching techniques. From crafting beautiful bags to creating stylish clothing items, this class caters to both fashion enthusiasts and those seeking a calming and enjoyable craft. As you refine your hand-sewing skills you will develop patience and an eye for detail, resulting in stunning handmade creations that you can proudly display.
Coding: Young tech enthusiasts between the ages of 11-14 can now enter the world of coding with this exciting new workshop! Dive into the basics of coding and get hands-on experience with Python. Through engaging projects and practical exercises, you'll build a good foundation in coding while gaining valuable skills for the digital age. Join us every Thursday(time?).
Repair workshop:
Have you ever wished you could fix your broken electronic devices instead of throwing them away? Well, we have great news for you! At our Electronic Repair Workshop, we empower community members to become troubleshooting pros. In just a few days, you'll learn valuable skills to fix common household items and reduce waste. Our experienced instructors will guide you every step of the way in this process. Once you've completed the workshop, we celebrate your achievements with a graduation ceremony and with the calibration of Repair Café, we hold a repair event.
During the Repair Event, you can bring in your broken items, and our skilled workshop graduates will fix them on the spot under the supervision of experienced fixers. Together we can make a difference by extending the lifespan of our electronics and reducing electronic waste in our community.
Earn a Bike Workshop!
Our Earn a Bike workshop will provide you with the hands-on training and practical knowledge needed to take care of your bike and you will be able to earn one of your own as a reward. Our experienced instructors will guide you through the ins and outs of bike maintenance. You'll learn how to perform basic repairs, adjust brakes and gears, and properly maintain your bicycle for optimal performance and safety.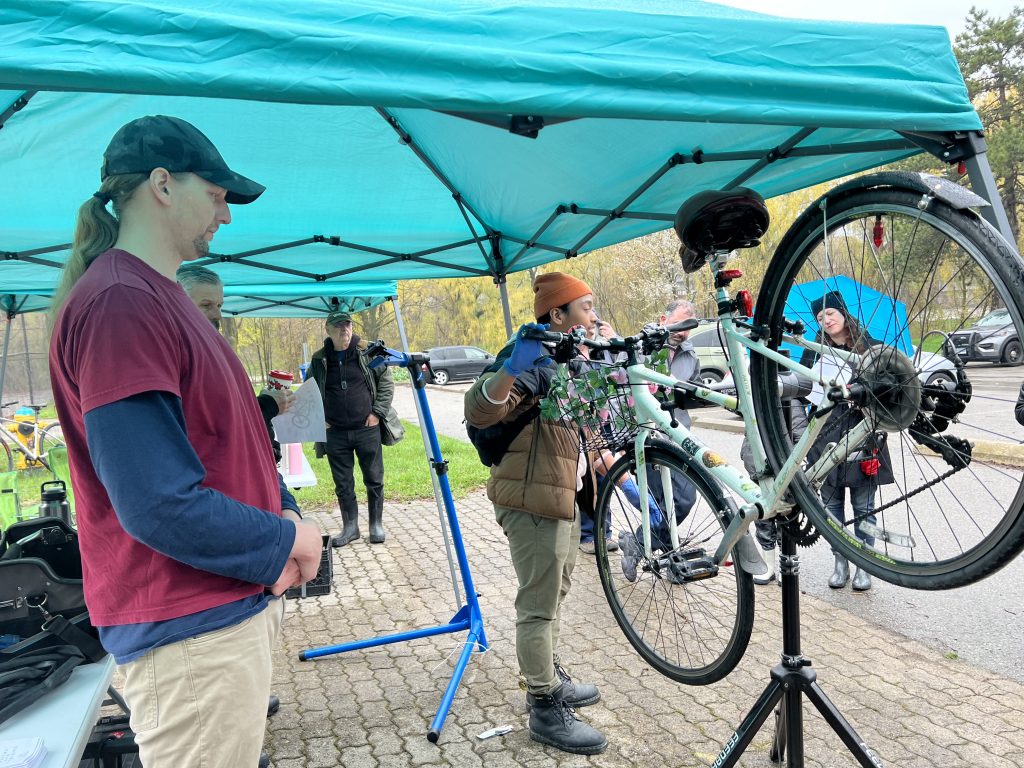 Kids Crafting!
Calling all young artists and explorers! Our Kids Crafting class provides a wonderful opportunity for children aged 4 and above to let their imaginations soar. This weekly workshop combines creativity, sustainability, and cultural exploration to provide an enriching experience for little minds.
Using recycled items as the foundation for their crafts, children will dive into a world of artistic expression and discovery. Each week, we introduce them to different cultural themes and special events. While being creative, the children will also learn the importance of sustainability and recycling. They'll understand how everyday items can be repurposed to create something beautiful and environmentally friendly.
Market Greens: Market Greens is a fantastic initiative that aims to provide affordable fruits and vegetables to the community to help with and combat food insecurity. The program, held at the Corner 240, offers a wide selection of fresh, nutritious produce for residents to enjoy. A community dietitian expert will be at the program to answer any questions you may have about nutrition or food preparation.
The Green Café:
On Tuesdays ,Thursdays and Saturdays, we will host The Green Café at the Corner. This incredible program offers affordable, nutritious, and delicious lunches that you can either enjoy in our cozy dine-in space or conveniently have in a takeout box. It's not just about the food; it's about the connections and sense of community that are fostered with each shared meal.