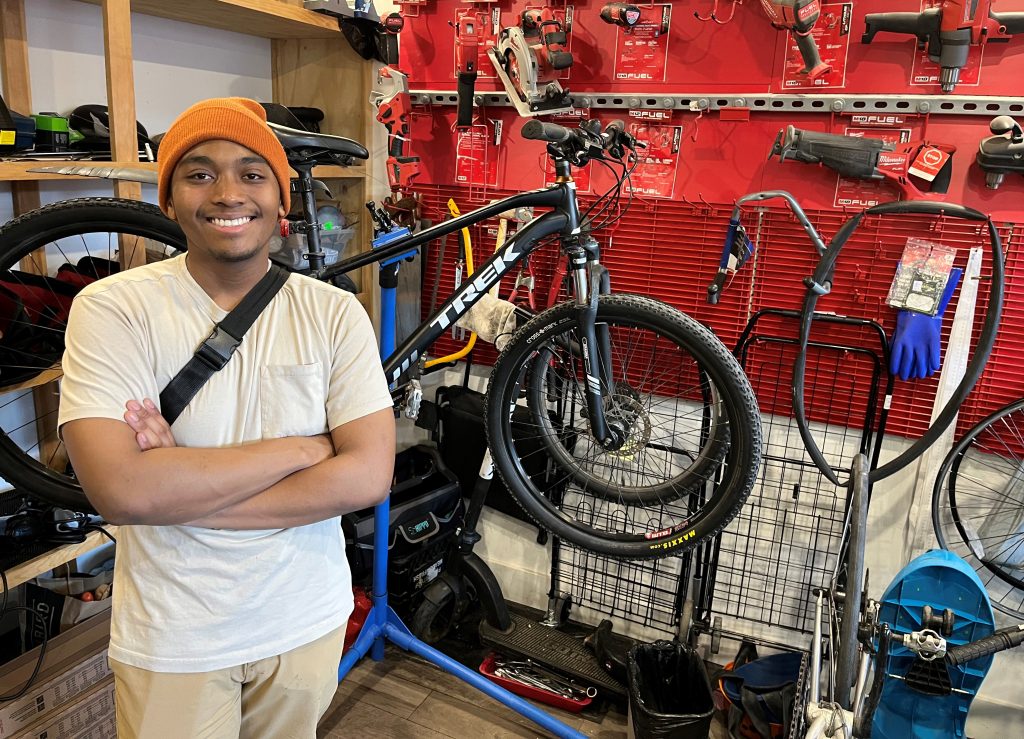 The Corner @ 240 offers an array of unique and valued services, including repairs. These interviews examine the sustainability of these well-liked services. Alaa Mohamed, Darrel Jenya, and Vanessa Boka are 240's Creative Corner Team. A few excerpts were taken from our interviews with them.
I am Alaa Mohamed and it is my pleasure to introduce myself to you. I work in many capacities at The Corner @ 240. I spend most of my time meeting many clients and helping them with the services we offer. In addition to coordinating programs for The Corner @ 240's community capacity building program, I also assist at the Green Market, Green Café, and The Corner Restore.
I also help connect clients with different social services, like housing and employment, through service providers and partner organisations. In addition, I work with the intake team on case management.
Sustainability is the biggest part of what we do at The Corner @ 240. The repair and fixing of items like electronics are things that people seem hopeless about, but may not be able to fix on their own. Furthermore, we create a sustainable model for service users and save organic waste, clothing, and textile waste, which is a major problem in the community.
We are focusing on sustainability with these programs. After just one visit to The Corner @ 240, people usually find a new life for their damaged items; this is the essence of sustainability.
We also use sustainability in our creativity. It is simply innovative, using waste to create new items, such as a diorama.
Personally, since starting my job at The Corner @ 240, I've discovered a ton of new sustainable practices. I discovered how to fix some minor electronics issues at home. For instance, I can repair problems with my refrigerator. Because of the regular meetings, discussions, and seminars held here at 240, I can carry out these tasks.
We can fix or repair many of the items we received. People merely need to "think twice before throwing away items like appliances because we can fix many of them if you analyse them," according to the problem. That is what The Corner @ 240 is doing, and it is sustainable.
I believe that educating people about sustainability—which is crucial—is the most straightforward approach for them to practise it. People should not throw out damaged items straight away.
The same model that we are using at The Corner @ 240 can be developed and used in other neighbourhoods because it will have a significant impact on society as a whole by lowering waste, lowering the heat, and enhancing the climate. Additionally, more people may find a job as a result.
Also contributing to the discussion was Darrel Jenya, who started as a volunteer and is now serving as the community's youth representative on The Corner's Steering Committee. In addition to being one of the main bicycle mechanics at The Corner @ 240, I am also working on social media.
At The Corner @ 240, one of the things we do well is repairs, which are well known around St. James Town. We are trying to make it sustainable, which is why we are now charging token fees to continue helping residents. Through our continuous training programs and workshops, we continue to help people work on and repair their items and minimize the number of items going to the trash or landfill.
Since last year, we've been helping residents fix their bicycles on the spot in the community, and we'll continue to do so. We believe that the more people are active, the more useful they will be to the community. Reasons for bringing bicycle repair to their doorsteps.
If other neighbourhoods adopt the initiative of The Corner @ 240 on reducing, reusing, and repairing, it will have a positive impact on climate change.
According to Vanessa Boka, the good reaction from community members who have benefited from the repair programmes such as electronics and bicycle repairs, workshops, and training is significant and encouraging. Vanessa works at The Corner @ 240 as a Community and Social Service Worker and provides referrals on health care, settlement services, employment, and repairs to Greek clients and others whenever they visit. Additionally, she examines many repair items sent in by clients to determine what they actually want. Right now, people are bringing bicycles to repair and blenders, fans and fryers to repair now that the weather is nice. Residents are often pleased when they bring in their faulty vintage electronics items for potential repairs. We can help them restore them to working order.
It is her opinion that The Corner @ 240 can continue to operate if the program receives funding. The funding will enable the volunteers and the fixers to get the supplies and parts they need to repair the items brought by the clients. By offering repair services, we help clients save money while reducing the amount of waste disposed of in landfills.