Volunteering at The Corner has widened my scope as a social worker says Jecintha Reena
By: Adewunmi Agunloye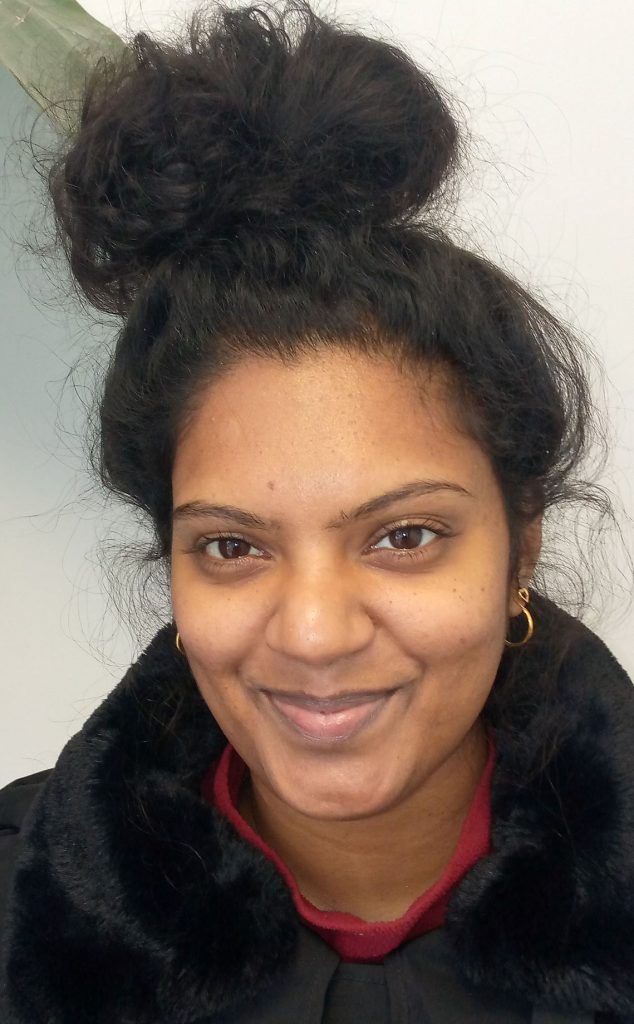 Jecintha Reena, who came to Canada one year ago, has given an account of how she started volunteering at the St. James Town Community Corner. With a background as a social worker in Singapore, she hinted that she likes doing a lot of community engagement work with families, particularly those living in a community setting.
Jecintha Reena:
I got to know about The Corner through Suja Selvaraj, an employee who told me what The Corner does with residents within the community and their families as well as all the programs that they have. I was quite interested when I heard about it because it sounds very familiar and similar to what I used to do back home in Singapore as a social worker. I decided to come and see the opportunities they have here for volunteering. I was introduced to Shova, who explained to me some of the volunteer programs that The Corner runs and I told her that I would like to do outreached work because I wanted to see families in their natural environment.
Working as a volunteer for the Outreached Program of The Corner @200 allowed me to know the St. James Town community environment better, as well as to know some of the needs of the residents and what policies the Corner has put in place to help them.
What I enjoyed doing most when I joined The Corner as a volunteer was outreach for the medical clinic and vaccine clinic. We used to go to thepublic housing area around the vicinity of The Corner @200 to promote awareness about the ongoing vaccine clinic, we distributed flyers on the medical clinic for the clients and residents living in the area.
Our outreach programs also covered some other activities and programs that the St. James Town Community Corner was doing for the benefit of the residents. We created awareness and informed residents, especially seniors, that there are many areas where The Corner can support them, whether it is through medical support or counselling. By and large, The Corner has different programs and activities for seniors, children, young people and all and sundry living in the St. James Town Community.
During my outreach outings, I let people know that if they are going through any difficulty in their life, there is support available and they don't need to go through these things alone. It is always good to support people and help, especially for newcomers.
One of the benefits that I have found from volunteering is that it helped me to support people. The people that I encountered during my outreach volunteering with the Corner @200 are happy with the programs and activities that they benefited from, such as medical and wellness programs.
The responses of the residents of the St. James Town Community have been really good. The feedback is positive, especially about the medical clinic, a lot of the residents are very happy that weare spreading this positivity around. A lot of them just immigrated from other countries and it is not so easy to do things by themselves. We can encourage them and letting them know that there are people and organizations like the St. James Town Community Corner that they can turn to for support or assistance.
Generally, I am very happy to be a part of The Corner through volunteering in the Outreach Program.
Thank you Jecintha for sharing your account of volunteering at The Corner. We hope this inspire others to take a community work with the same zeal.