This month's Creative Corner will focus on the LGBTQ+ Newcomers Program. After a community-led discussion on mental health awareness, which covered current mental health struggles and strategies for dealing with anxiety and depression, participants followed Bob Ross' Sunset Aglow painting tutorial. The event drew in a rather large group of people for a heartfelt discussion and a lively painting session that generated uniquely beautiful pieces.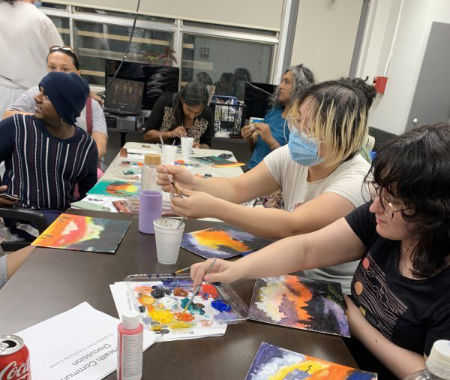 Discussing mental health is always important, as an individual and in your own communities. Members of the LGBTQ+ communities face various challenges in their everyday lives, and when that intersects with immigrant or newcomer status, the weight of these obstacles can increase. In a program designed for the specific intersection of newcomer/immigrant LGBTQ+ identifying folks, mental health issues can be discussed amongst those who have similar experiences. Solutions can be found together, and those who have already gone through the same hardships can provide their own input. Ultimately, it sends the message that we are not alone. We have a loving community where we care about each other.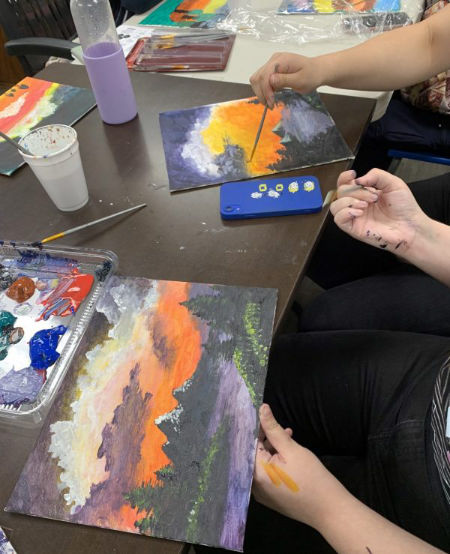 Mental health discussions, however helpful, can also be quite heavy on the mind, and emotionally strenuous. By putting the emotions that were expressed onto a canvas, to the tune of Bob Ross' gentle voice, provides a solution for diffusing such tensions. It is also an opportunity to express oneself creatively, and all the participants were able to do so. Bob Ross provided only a guideline for the art, and his melodic tone the only background music to the animated discussion between all participants. No two paintings ended up looking the same, as each participant put their own twist on the classic Bob Ross landscape.  
Participants also enjoyed the usual meals provided at the drop-in program, with lively discussion amongst themselves and with the facilitators.  
This project was made possible with support from The Corner and TNO. The LGBTQ+ Newcomers Program occurs on a weekly basis, with programming reserved for LGBTQ+ identifying newcomers or immigrants, and other events open to the rest of the community.